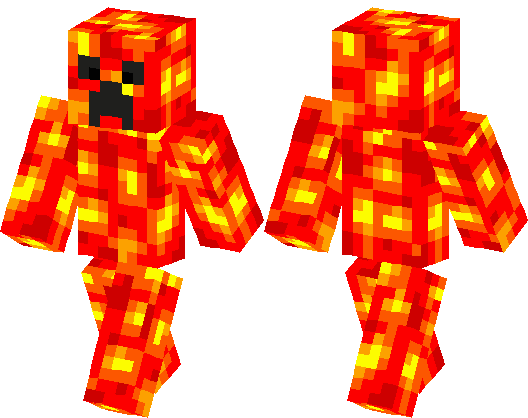 If you really got crowds of mobs or the same criminals, you downloaded cool weapons mods, found some unique cards and do not know what you do not have enough for all of this to start an epic battle, then you should download the Lava Creeper skin for MCPE 1.2.0, 1.2.6, 1.2.8. With this way you uniquely realize all your plans and plans.
If you have been playing in the MCPE for a long time and a lot, you could have met such characters many times, but in a slightly different appearance. And yes, there were already lava creepers in tuxedos and even glasses. Now it seems possible to download a fire creeper without clothes. Look at which even a little bit hurt.
Features of the Lava Creeper:
The external data of this skin will allow many crafters to become much more confident in themselves. This does not mean that players will be more adept at inflicting damage, or using the sword correctly. But nevertheless, wearing such a skin, players become more confident in their abilities, more attentive. After all, this is not just Steve, but a powerful and formidable lava creeper. Which, by the way, is exactly the same as his hero of the same name. If you meet in the crowd of mobs a real fire creeper, you can easily get lost in the mass and no one will distinguish you.
Playing on multiplayer servers, such a skin, many will try to kill, believing that this is the enemy.
Try and download the skin Lava Creeper 1.2.0, 1.2.6, 1.2.8 and see what will change. It will be more interesting to play so accurately.
And do not forget to check the version of the MCPE game client.