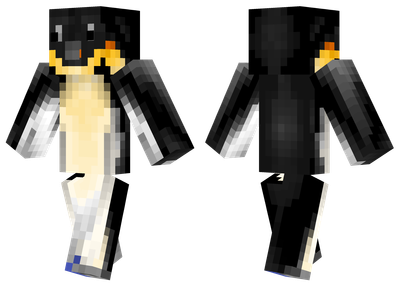 Therefore, if on your maps, locations, cities and other places where you most often visit, it became suddenly boring and uninteresting, try on the skin of the penguin  and see how much everything changes.
In addition, this image is simply created in order to test it in snow and ice biomes, where there are some snow igloos or even polar bears. And if all this is not there, there is a proven way to download the necessary modifications and add everything that you consider necessary to the game.
If you choose new textures, you can further improve and change the world around you, add cartoons to it or, on the contrary, something terrible, maybe even horrible.
What is special about penguin skin?
In high quality of its implementation. After all, now all the miners, without exception, want to have an immaculate appearance. And if they chose a new image for themselves, it should be made perfectly.
Do you want to become a penguin in Minecraft PE? So what's the hitch? Rather, download the penguin skin 1.2.10 and become an awkward but very cute bird that lives in cold lands. Where a lot of snow, ice, and icebergs.
Although this skin can be tested in warm countries and regions, or add it to megalopolises. Playing on servers, other players will be very surprised by such heroes. Hostile mobs may behave unusually and in some cases may not begin to attack first. Or they will retreat altogether – check what happens with the creepers and ocelots on your own gameplay. And do not forget to check the version of the game Minecraft PE.