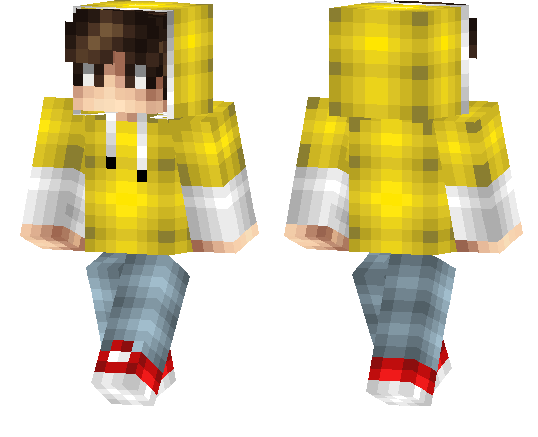 In addition, this is a great reason to drastically change the usual gameplay and add something special and bright to it.
Skin Yellow Hoodie for MCPE  1.2.0 will allow everyone to become much more confident in themselves. The guy is wearing a bright yellow sweatshirt with a hood, trendy jeans and red sneakers. In general, the typical appearance of a modern guy. And if you want to become so in MCPE, use this skin.
You can play in this way on your favorite maps, go to a multiplayer server, and generally do everything that you do every day. But with one small amendment – in the form of a young guy who follows modern trends in fashion.
Yellow Hoodie Skin Feature
The main feature of this image is brightness and presentability. Therefore, get ready for universal attention to your person. And the evil mobs and detractors will mess and hunt you even more.
You can use the new skin as you please, but we still advise you to visit the most famous and big cities in Minecraft Pocket Edition. Agree, when among the big skyscrapers and tall skyscrapers a young guy in jeans is walking – this is a more common phenomenon than the same hero on the beach or near the lava. Although its occurrence is not excluded even in the most unexpected places. There are so many interesting things on the Minecraft, try to just have time to see them all.
So if you want to change your appearance, choose the skin of Yellow Hoodie and play new adventures. Be are more courageous and confident crafter.