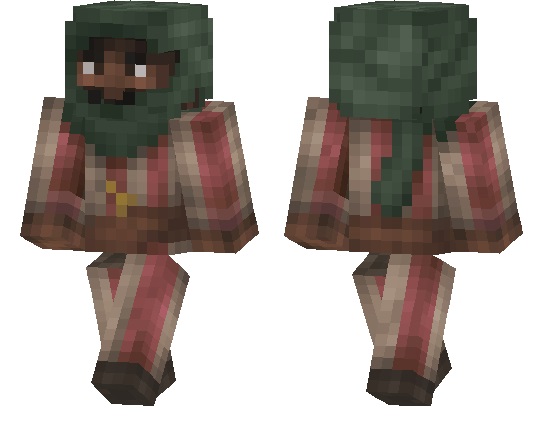 If you want to bring something such and unique into your life, Berber Cavalry skin  will ideally reach  the goal.
Its feature is the external views of the face and body. Well, just the real Berber. The Berber Cavalry is an Arabic-speaking nomadic people, often living in deserts. And if you spend a lot of time in desert biomes, or wander, or just want to surprise everyone. Who is near you, the best option and nothing to look for.
Externally – overgrown, disheartened and a bit scary. But once he gets into the appropriate environment, this image takes on completely different forms and looks at it in a new way.
What is the feature of the Berber Cavalry skin?
Of course, in his appearance. With this skin you can explore any spaces and terrain in the MCPE. Even if it is jungle or village. In the last places, a special sensation will produce this skin.
Just imagine how much time you previously spent in the villages and how much you communicated with the inhabitants. Now you practically can't get out of there – they will want to get acquainted with you, communicate, and some will be completely afraid.
Skin Berber Cavalry  is perfect for testing in multi-user servers. As an example, players can all download this skin, download a special mod that adds camels, and create their own special world, where power is ruled, the desire to learn something new.
In general, create, and you will have a lot of fun quests and cool impressions.
P.S. From our side, we can add that this is undoubtedly one of the coolest and most luxurious skins we have ever seen.