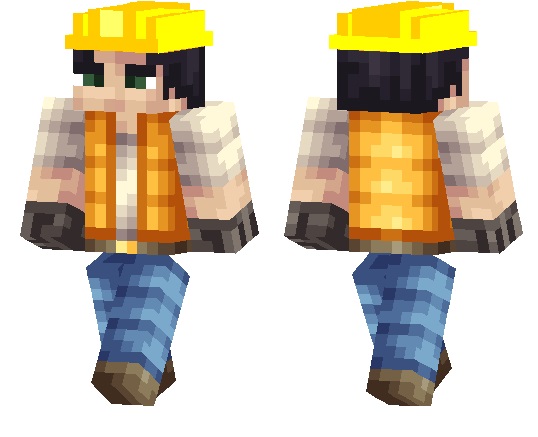 In practice, it helps or not – it is difficult to answer, but you will have a mega beautiful and stylish look. Some may even say what a dude is, what does this image suit him? !!
We recommend the Construction Worker  skin to diversify and gain new experience.
For multi-user projects such a chip is most welcome, so be sure to take advantage of this opportunity.
And so, let's take a closer look at what this skin looks like?
This guy is a rather large build with bright blue trousers, yellow waistcoat and amazing emerald eyes. But its peculiarity consists not even in clothes, but in a helmet that is on the head. With her, the guy immediately becomes like a builder. Well, in this way you can start the construction of the century. For example, create your own metropolis or at least a cozy village.
What is the feature of Construction Worker?
Of course, in his appearance. This is a real robot guy, a guy who is able to conquer mountains and cross rivers, in general, the one you can rely on and who will always come to the rescue. If you want to spend some time in the skin of  a strong, courageous and pretty handsome man, then hurry to download the Construction Worker skin from our website via the link provided below. After that, be sure to tell us what you did, what you did, what maps you tested, or what new locations and biomes you visited.
After all, in this image you can do anything you want – to build a house, fight with mobs, explore new worlds, build towers and much more, in general, live a full life.