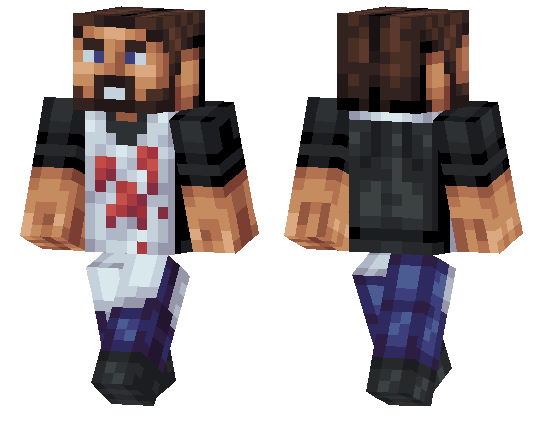 And it is worth noting that in reality everything is not so simple.
Skin Butcher 1.2.0, 1.2.6, 1.2.8 will cause a big stir among those who decided to add more hardcore and horror to their world. Imagine for a moment – you killed many mobs, bosses, zombies, and then put on this skin and let's cut all those killed into pieces. Absurd? To some extent, yes, but if you try to implement at least some of these plans, there can be irreparable consequences.
We recommend to try this image on the maps, where there are many different mobs, especially hostile to players. See how they react to the appearance of such an unusual character for their world.
What does a Butcher skin look like?
The appearance of this character is peculiar. But the first thing that catches your eye is the scarlet spots of blood on the apron. They seem so horrible and nightmarish that at first you get very scared of them and just don't know what to do — whether to run and hide, or look for a weapon. But the mobs are not easy to hold. They usually understand who is in front of them and do not make any hasty actions. On the contrary, they will carefully consider the new heroes, and then they will act as before. Kill and destroy all who stand in their way.
Skin Butcher for Minecraft PE 1.2.0, 1.2.6, 1.2.8 will be able to change the gameplay of many crafters.
By the way, please note that this butcher has a great beard as an outstanding appearance. Look – is there a drop of blood on it ?!
Check the MCPE gaming tool before installing the skin.