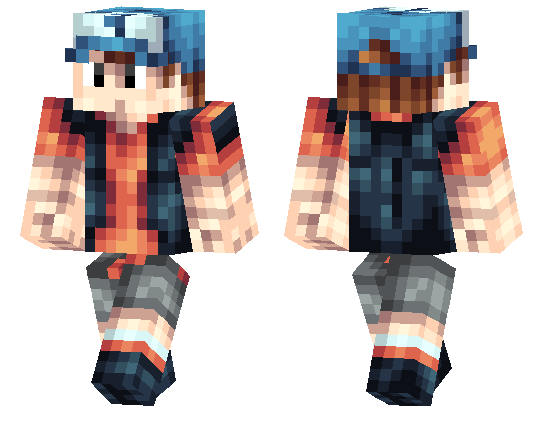 In addition, the Dipper Pines skin  is made stunningly beautiful and high-quality, almost like a real Dipper Pines.
Having tried this skin on your hero, you will also become a cheerful and inquisitive guy who wants to achieve a lot of new goals and is always interested in something, learn something, ask and just lead an active lifestyle.
You can test this skin on almost any map, location, biome where you see fit. If you are playing on multiplayer servers, you will be recognized by other crafters. After all, Dipper Pines is a fairly well-known personality, and this skin is made very likely.
What is the feature of the Dipper Pines skin?
In his charisma and appearance. Of course, to have the same unique character, you need to be born Dipper. But in the world of Minecraft Pocket Edition it is not at all necessary. It is enough to put on the skin of this hero and try to be yourself. If anything fails, ask for advice from your new acquaintances. And before you go to explore new locations in MKPE, review the series or two of the popular cartoon.
Undoubtedly, in a cubic reality one can meet no fewer paranormal phenomena and actively study them. Maybe here the guy will find new friends and together with them he will spend holidays with one of his relatives in a village or a small town.
Skin Dipper Pines  will add not just a new image, it is a reason to completely recreate the reality of the cartoon in Minecraft PE.