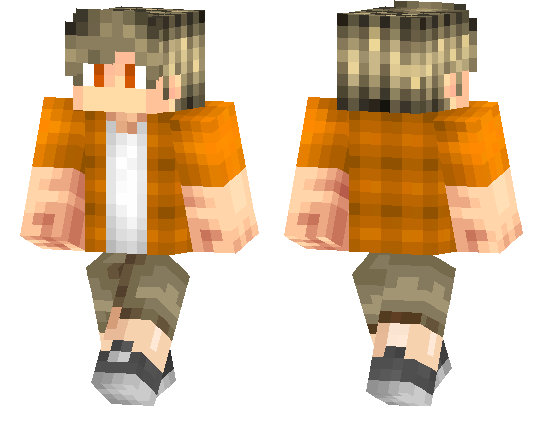 But the main feature of this skin is of course the appearance. Orange fashionable jacket, stylish pants and a modern hairstyle – in this form it is not a shame to appear at any important social event.
Many interesting events happen in Minecraft Pocket Edition. Sometimes you regret that there was no suitable clothing at hand. Or did not look very nice and elegant. Then once again you remember that there are a lot of very different skins. And the Holiday Kid  skin can be one of the images that will make your hero not like everyone else. I recommend it personally.
In this appearance, you can appear absolutely on any server and surprise everyone around you, even mobs and bosses angry against you.
What is the Holiday Kid skin feature?
In an orange jacket. In this bright clothes not to notice the new character in any location is simply impossible! Especially noticeable hero in this form in the sand and snow biome, and even where there are many plants – green and light green. Against the background of white snow or green bush, your hero in a bright orange jacket will be visible to everyone. In some cases, this can be perceived as a minus.
Hurry up now to download the Holiday Kid skin into your MCPE game tool and see that even the external image of the main character can make a lot of changes to the gameplay.
Test this image on your favorite cards and advise friends. Or with them create a whole team of guys in orange. After come up with an interesting PVP competition.