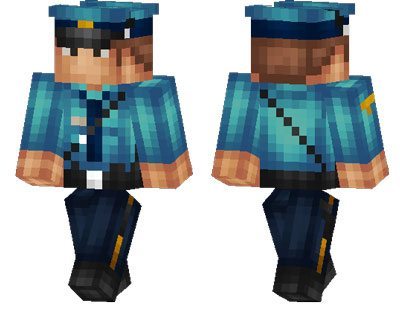 It can be both ordinary players and mobs with which you have to fight and kill them just to stay alive.
Skin New Jersey State Police  radically different from other skins, images of which you could have tried on your hero before. This is the skin of a real cop, guardian of law and order among all citizens. So, if you decide to test it for example in the village, everything around, in particular, the residents, will pay attention to it. Many are really scared and will behave very quietly, without giving any reason to be attached to them. And others, on the contrary, can provoke and disturb order. So take a moment to punish the perpetrators and imprison them. Using special cards for this.
What is the trick of the skin New Jersey State Police
In appearance. Blue shirt, perfectly ironed pants, and a cap to match all clothes. Very nice and stylish. Ambient in appearance can often make their own conclusions.
Skin New Jersey State Police  can be used for various purposes. But the most popular may be the use of this skin to add a police representative to the world MCPE.
But there may be those who are not at all afraid of such a skin and will continue to dirty, harm and do all that they did before. So consider the behavior of all.