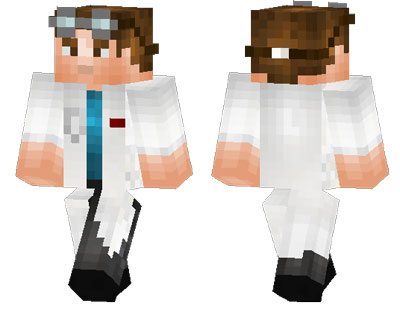 Indeed, many types of drugs are simply dangerous and, if mistreated, can easily kill them. If you want to conduct similar experiments with drugs in the MCPE, download the appropriate modifications and in the image of the pharmacist perform numerous experiments. Since everything happens in gaming reality, the harm doesn't harm you. But if you were engaged in similar in the real world, the problems just can not be avoided.
Skin Pharmacist 1.2.10 will be able to decorate the game world of many of you. And also drastically change it. Be prepared for dramatic changes and do everything possible from you to stay just to win.
Pharmacist skin features:
More experienced crafters will definitely want to test this image on the appropriate maps, and may add new members of the animal world. To have anyone experiment with these types of dangerous drugs. And also cool to try on the image of a pharmacist in the format of multi-user servers. Get ready for the fact that you have to go through many interesting adventures.
Imagine if somewhere in a desert biome, or savanna, a man dressed in a white robe will appear in front of the mobs, and whose main task is to practice medicines. Mobs don't know who it is in front of them.
Skin Pharmacist 1.2.10 will not only change your main character outwardly, and will make you think completely differently. There will be a lot of ideas that you will immediately want to realize.
For the skin to work correctly, the game client must be Minecraft PE 1.2.10.
Click to rate this post!
[Total:

1

Average:

1

]