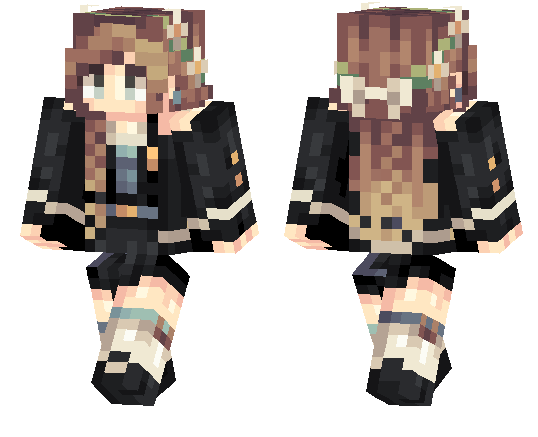 A new image is always a new adventure. To such a skin would be great to download new maps and texture packs. Or, for example, to visit in this appearance a new seed.
And so, what does School Uniform 1.2.0, 1.2.6, 1.2.7 skin look like? This is a cute girl, dressed in a strict school uniform. This is the uniqueness of the image. You can temporarily return to the gray school weekdays, and who else is studying, just add your school clothes to the MCPE (if your school has rules for dress code compliance).
What is the School Uniform skin feature?
In ideas. Thanks to this image, you can surprise your friends and at the same time get a lot of new impressions and emotions from their reaction. Still – not every day in Minecraft PE you can meet a real student.
If you pick up an interesting map, or even build a real school itself, or some kind of super fashionable university, then such an image will be an ideal character in such a place. Invite your friends, advise them to also try on and wear such a School Uniform 1.2.0, 1.2.6, 1.2.7 skin, and you will create an amazing mini-game. Thousands of other crafters will definitely want to play!
Hurry up to surprise the mobs, they still probably have not met schoolchildren in their usual biomes. And thanks to new modifications for backpacks, such a cute student can still wear interesting backpacks behind his back. Please yourself and your friends with an unforgettable game and new quests. Plots that you come up with yourself.