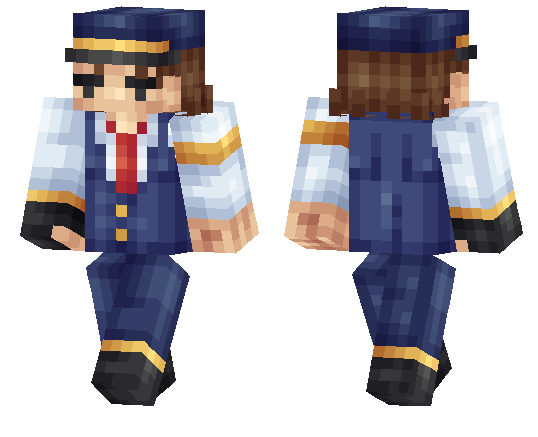 This image is made in high quality and incredibly naturalistic. As if it really is a railwayman.
Skin Steampunk Train Conductor 1.2.0 is a person who wears a conductor uniform. And it is ideal for maps or places where you need to test new railroad tracks or at least somehow be associated with trains and passenger traffic.
Also on our website dedicated to the square reality of Minecraft Pocket Edition, there are many maps and other locations where players or developers have added long train tracks and run on different train directions. Most crafters use them for cargo transportation or other useful purposes.
What is the feature of the Steampunk Train Conductor skin?
This is a real conductor, which we can meet every time we make transfers on trains or meet relatives on the platforms. But given the squareness of the world MCPE.
With this skin, you can drastically change the whole gameplay, but you can add a certain highlight and something special, unique and unique, quite a bit to see something unusual and what you see in Minecraft PE is not every day.
Steampunk Train Conductor 1.2.0 skin will be an excellent way to play on your favorite multiplayer projects. If there is such a need or desire, you can offer your friends to become a conductor for a while. Perhaps, having tried on the role of this profession, you will change your views on those who are responsible for many important issues, related to the railway and passenger transportation.