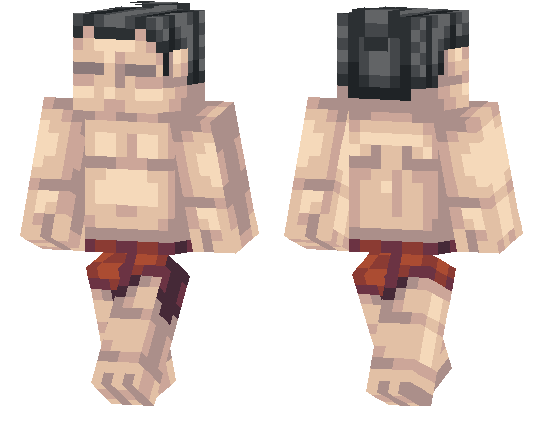 Sumo Wrestler skin is made very unusual, but qualitatively. This is the image of a big man who has been engaged in wrestling all his life. Outwardly, it is very similar to a real sumo wrestler – the same great weight, specifically pumped muscles and a big head.
In Minecraft Pocket Edition, players could turn into a lot of people. Nevertheless, they still continue to look for new skins and new images.
This skin would be ideal for competitions in the PvP arena. Let your rival opponents also use this skin so that all participants have the same appearance. After pick up the appropriate card or already ready PvP arena. Start the fight. Win the strongest and most dexterous.
What is the feature of Sumo Wrestler skin?
In its dissimilar appearance. This sumo wrestler, all his life engaged in a hard struggle. You can only imagine for a minute what this man had to go through. No, well, really, in the real world, people who are fond of sumo wrestling are forced to limit themselves in many areas of life. Only in order to enter the arena at a crucial moment and win the same as he is a sumo player.
Try also you download Sumo Wrestler skin 1.2.0, 1.2.6 on your mobile device in MCPE and evaluate its advantages. In addition, this skin can be used for other purposes – for passing missions, surviving, exploring new locations and just to surprise friends and mobs present.
The only thing that is available from the clothes on this skin is red panties. Stylish and fashionable, as it turned out. But the trick is not even in them, but in the fact that the skin creates the impression of a person with a very large weight. This sumo!