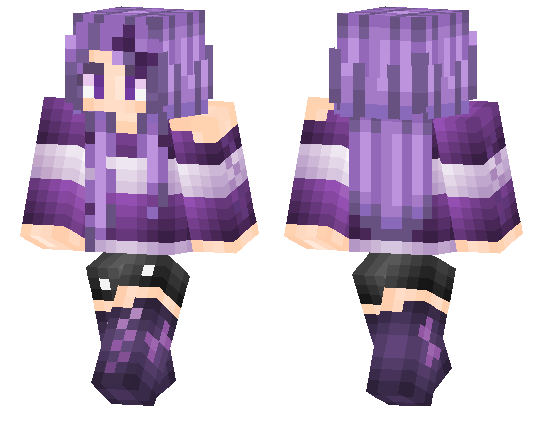 Mobs tend to pay attention to such changes, but much bigger changes after a change in appearance occur on multi-user servers. This is not surprising. Playing in the company of new acquaintances, friends and other things, everyone is used to seeing you as we are. And if you download the skin Hooded Wizard (Female) 1.2.10, and it will appear in the image of a cute girl in a bright outfit and even on the head of which there is a big hood – no one will miss this for sure.
Also this skin will be cool to walk on popular maps, thereby surprising all living creatures that are there.
Features of Skin Hooded Wizard (Female):
The main feature of this image is its bright appearance. And the second is that this is an image of a pretty and rather pretty girl. Surely there are often situations when you need to become a charming and beautiful young lady, thereby more softening relations with representatives of the world of Minecraft Pocket Edition.
If you want dramatic changes, hurry up and download the Hooded Wizard (Female) 1.2.10 skin and test it wherever you can – on servers, maps, and most favorite locations. It will be funny if it appears in such an image on well-known PvP arenas, because everyone there looks confident, strong, brave, has all the necessary armor and weapons and much more. And then the girl. Yes, even so beautiful and sweet. Her appearance will discourage and impress all those present.
Click to rate this post!
[Total:

4

Average:

3.3

]