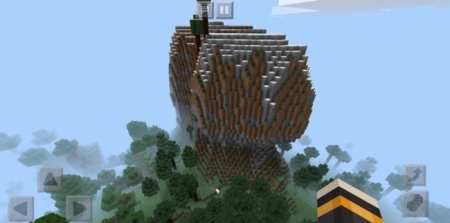 And all crafters are obliged to see it! Because it is really something extraordinary and something to which we are not accustomed to – the mountain of the form of a ball!
Seed strange ball for MCPE 1.2.0 adds one beautiful place to your worlds, and besides the strangely shaped mountains, there will be a coniferous forest, beautiful and rich in various amenities of a cave, an even biome for building new masterpieces and a long ravine! Perhaps it still needs to see with my own eyes.
On our resource often added no less interesting and original seed. Therefore, you will be with what to compare.
What is the peculiarity of Seed strange ball?
Of course, in the unusual shape of the mountain, which was obviously not randomly generated. A very talented and capable developer has made efforts to create such a huge mountain, for which we are very grateful.
In addition to the mountain in the shape of a ball, miners can go to a large forest and find a huge body of water there. Use it as a great place for fishing. By the way, biting there is even nothing. And then cook the fish and eat. Or treat her wards with her. Surely each of the crafter has his favorite, tamed animal that you need to feed and that you have to take care of.
Use Seed strange ball in MCPE 1.2.0 for a walk and for learning something new, atypical and non-standard for Minecraft Repair.
The plain near the forest is a great place to build new houses or hovels. You have a lot of decorative blocks to come up with something more original and cute, than you and other players and mobs will admire and admire.
Seed: 134822741